Regular price
Sale price
$12.00 USD
Unit price
per
Sale
Sold out
🌽 🦃 12 lessons of an enriching + eclectic family-style Thanksgiving Unit that spreads an abundant feast of education, simply!
Prepare for a simplified, yet enriching, Charlotte Mason-inspired learning experience like never before. The Simplified Feast curriculum redefines the way you approach education, offering a diverse range of subjects and activities that will ignite your children's curiosity and love for learning. Designed for grades K-8, this curriculum is completely family-style.
 **Click here to see a flip through of week one of this unit.**
✨WHAT  YOU'LL RECEIVE
12 lessons of family-style learning (3 weeks of a 4-day school schedule week)
96 pages 

(8.5" x 11" paper size)

Instant Digital PDF Download 
✨KEY FEATURES
1. Eclectic Learning: Our curriculum embraces a holistic approach, combining various educational philosophies and subjects to create a dynamic learning experience for your children in a simplified manner.
2. Family-Style Education:  Have kids in different grades? No worries! The Simplified Feast caters to grades K-8, making it the ultimate family-style curriculum, while learning becomes a shared experience with your children. Imagine the joy of learning and growing together, without feeling like you're being spread too thin from bouncing around from child to child.
3. Engaging Lessons: Say goodbye to dull textbooks! Our 12 lessons are designed to be interactive and engaging, sparking curiosity and encouraging active participation from the youngest, to the oldest.
4. Simplified Approach to Learning and Teaching: No extensive prep needed, just print out your papers, gather very minimal supplies and open and go. Each day has 8 learning blocks (pssst... one block is a break and another block is the tea-time block) and you can accomplish your day's worth of homeschooling with all of your kiddos grades K-8 in about 3-4 hours each day and only 4 days a week! Every day is completely laid out for you so you don't have to even think about it, just simply open, read or instruct and you're off to the races!
5. Over 15 Subjects in One Curriculum: Wave goodbye to juggling multiple curricula. With The Simplified Feast, your homeschool gets a full spread, all in one curriculum. 
Say goodbye to the days of monotonous textbooks and uninspiring lessons. The Simplified Feast includes an extensive array of subjects such as scripture memorization, composer and hymn study, artist and picture study, poetry, writing activities, history, home economics, geography, science, handicrafts, tea time, nature study, and more – all within a single, open-and-go curriculum. Long gone are the days of just getting through the basics each day!
6. Less Prep, More Fun: No more overwhelming preparations or lengthy teacher's manuals. Each day is meticulously laid out, offering 8 manageable learning blocks that cover a variety of subjects, including designated break and tea-time blocks. Spend approximately 3-4 hours a day to complete a day's worth of engaging homeschooling with all your children in grades K-8. 
✨SUBJECTS COVERED WEEKLY
Scripture Memorization - Old and New Testament Verses (KJV)
Composer Study - Johannes Brahms
Hymn Study - Charles Wesley
Artist + Picture Study - Jennie Augusta Brownscombe +  Jean Louis Gerome Ferris
Poetry - Various poems about Thankfulness
Copywork - Quotes about Thankfulness
Dictation - (from copywork passages)
Composition - Free write on topic of choice
Narration - Throughout the course
Creative Story Writing - Story starter prompts
History - Colonial America
Geography - 13 Colonies
Social Studies - Life in Colonial Times/Pilgrims
Science - Simple science experiments
Home Economics - Basic Kitchen skills
Tea Time - w/ read aloud about the Pilgrims
Handicrafts - Various crafts
Nature Study - Fall-themed nature study
Art - Fall-themed projects
Being a Blessing - Blessing others through various giving activities 
✨WHAT  YOU'LL RECEIVE
3 weeks (12 Lessons)
96 pages 

(8.5" x 11" paper size)

Instant Digital PDF Download 
Please note: The Simplified Feast is designed for you to use for personal home use only. You may not use The Simplified Feast for schools or co-ops, or to sell or distribute to others.
**This product is not coupon eligible.*
This is a digital product. Nothing physical will ship.
Important Details

Digital Download only; nothing physical will be shipped.
Refunds

Because of the digital nature of this product, I cannot issue refunds. However, if you're not satisifed with your product, please email me at:

cherelle@embracinghomeschool.com
Share
View full details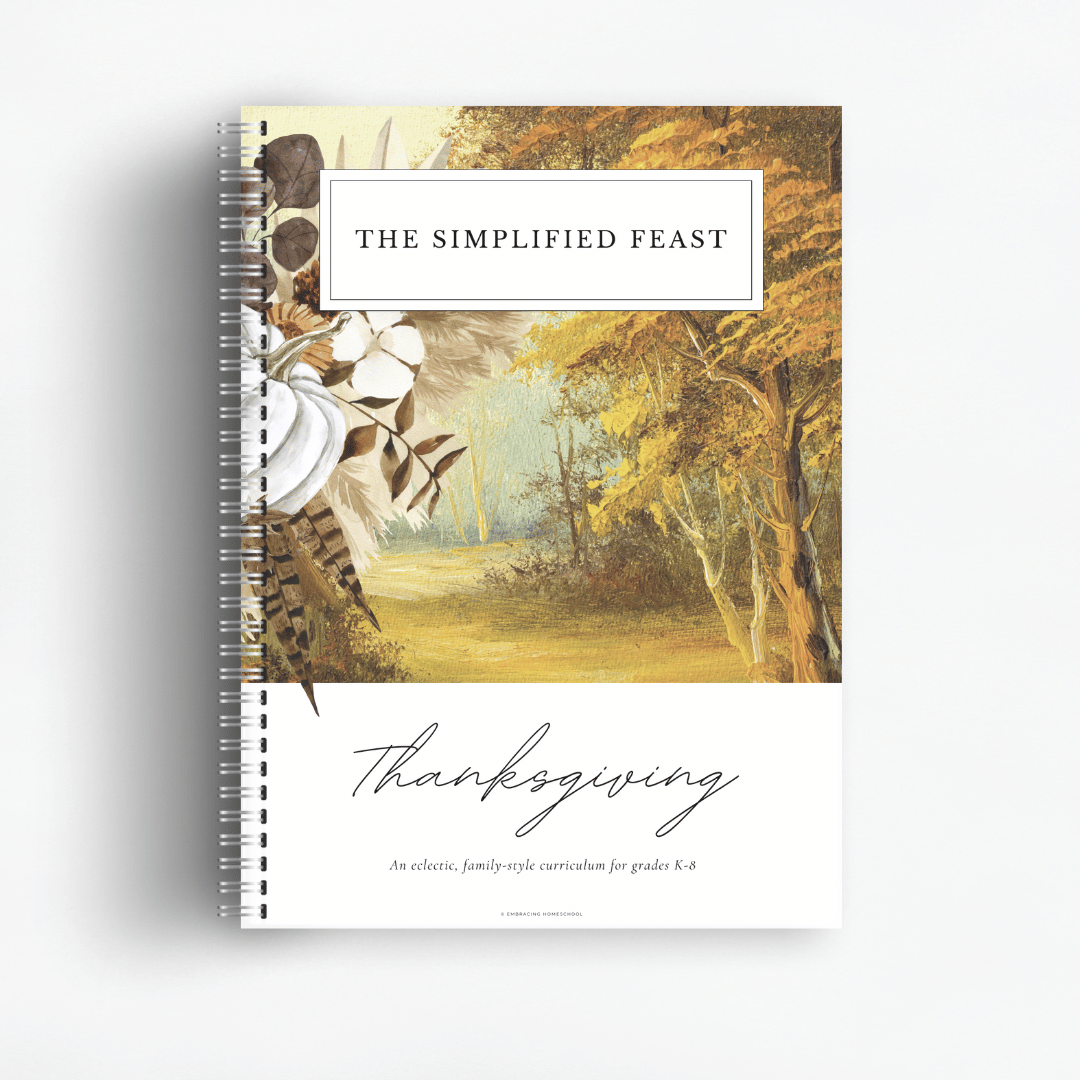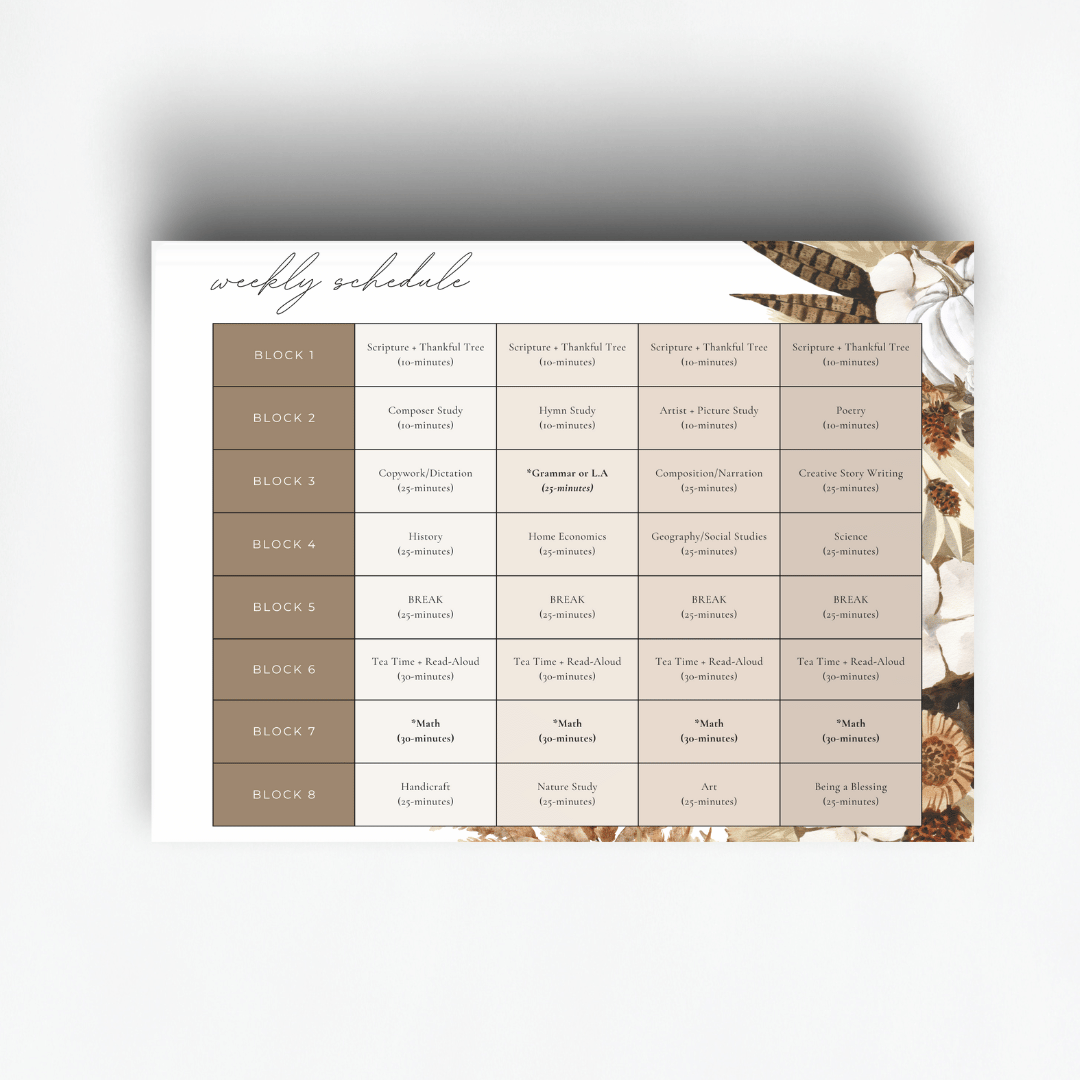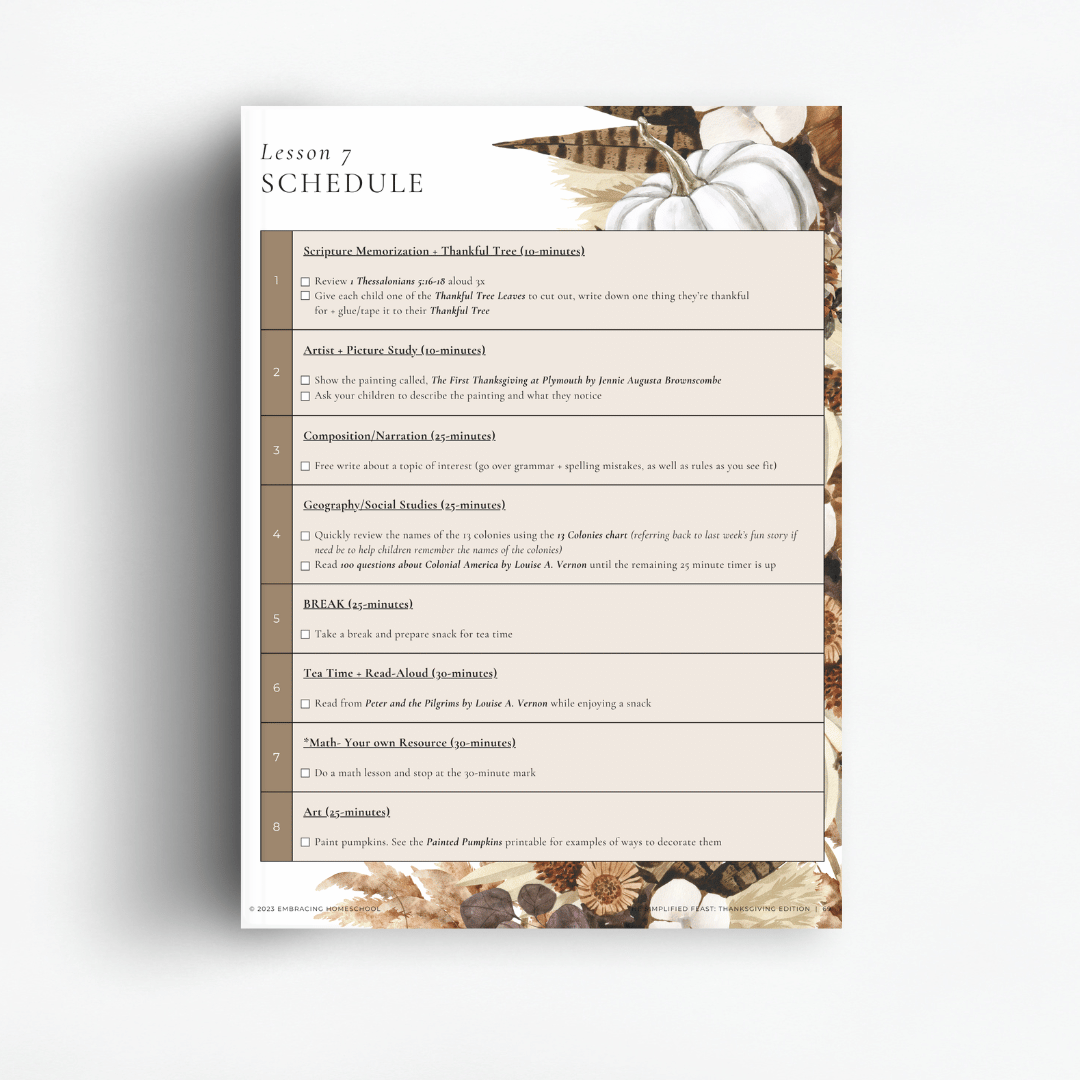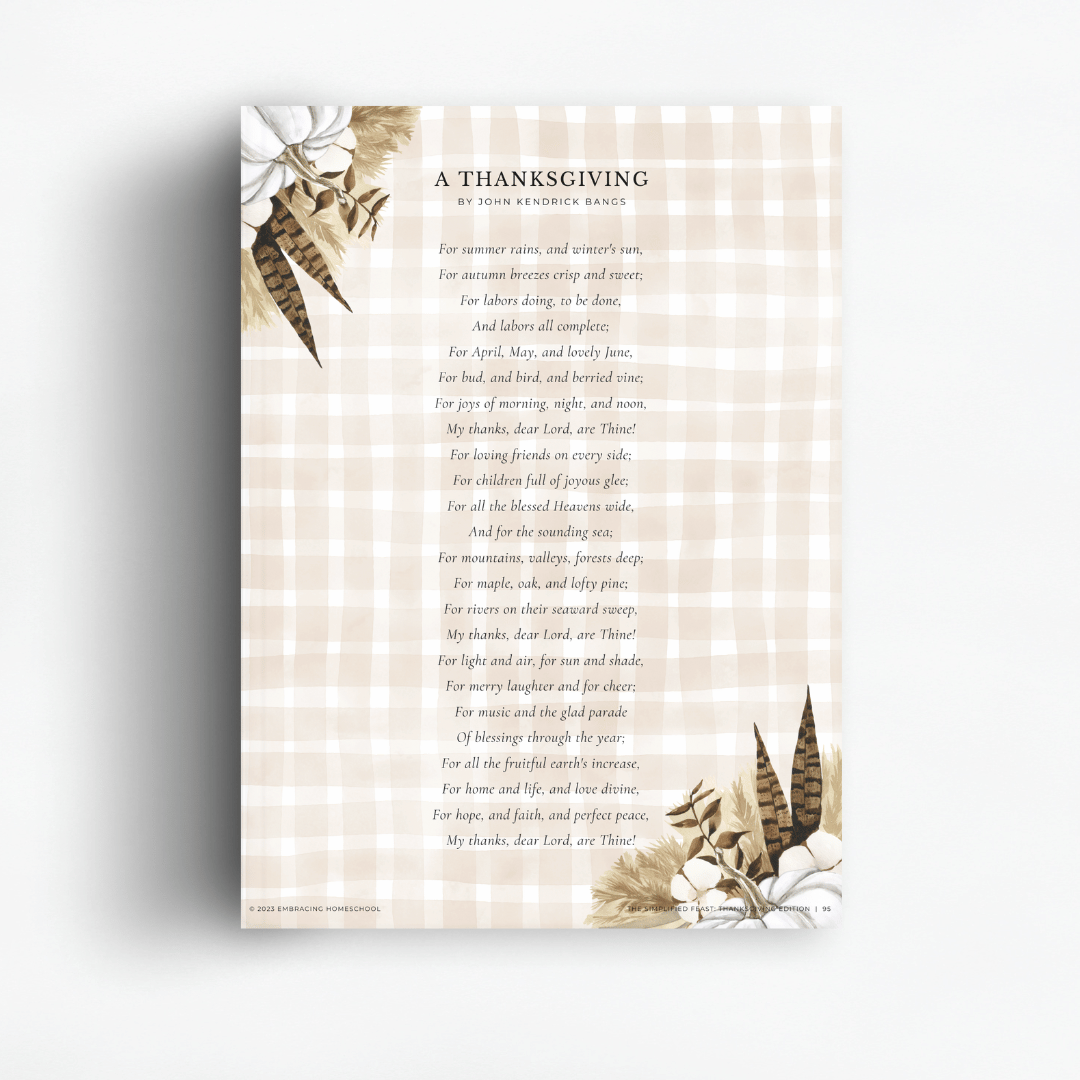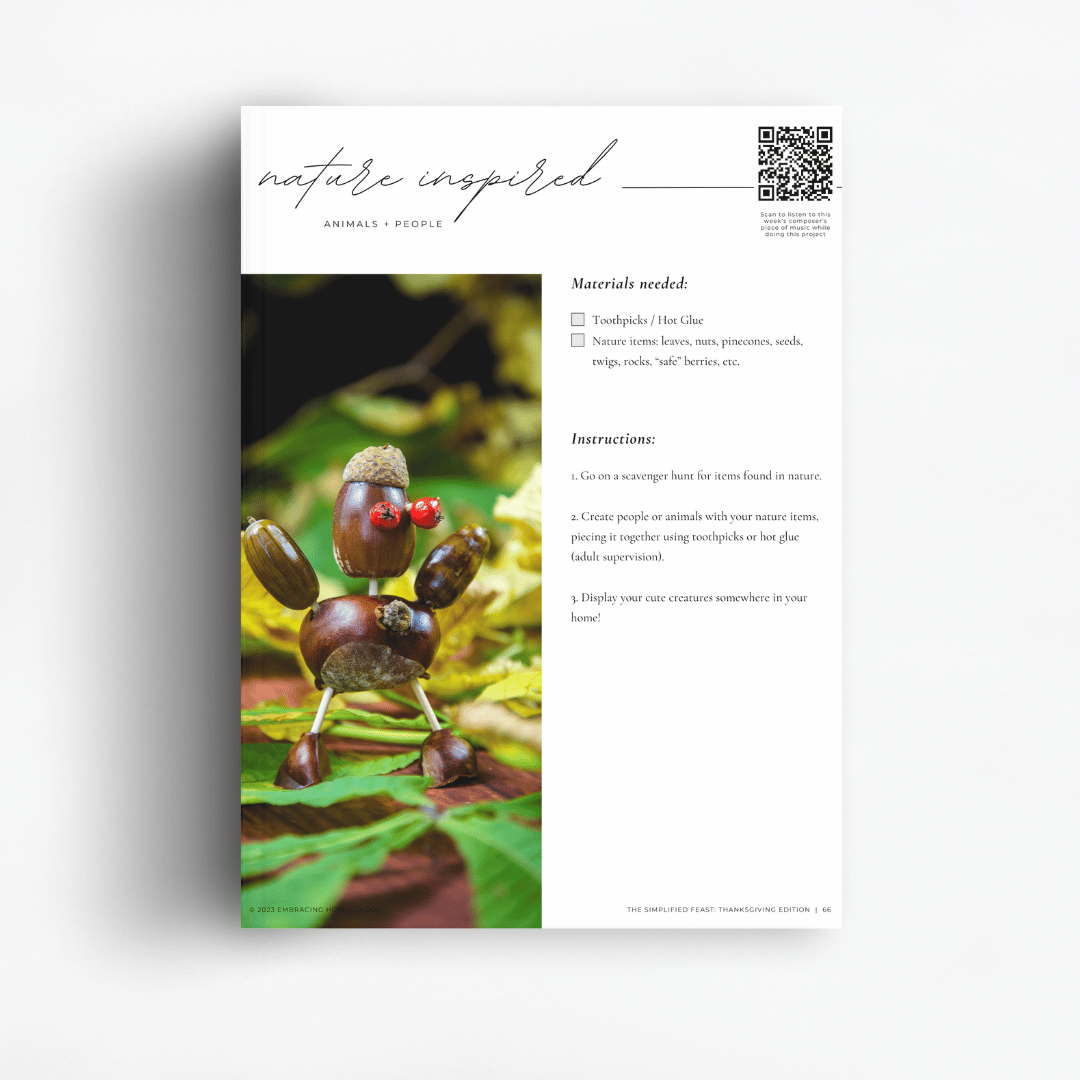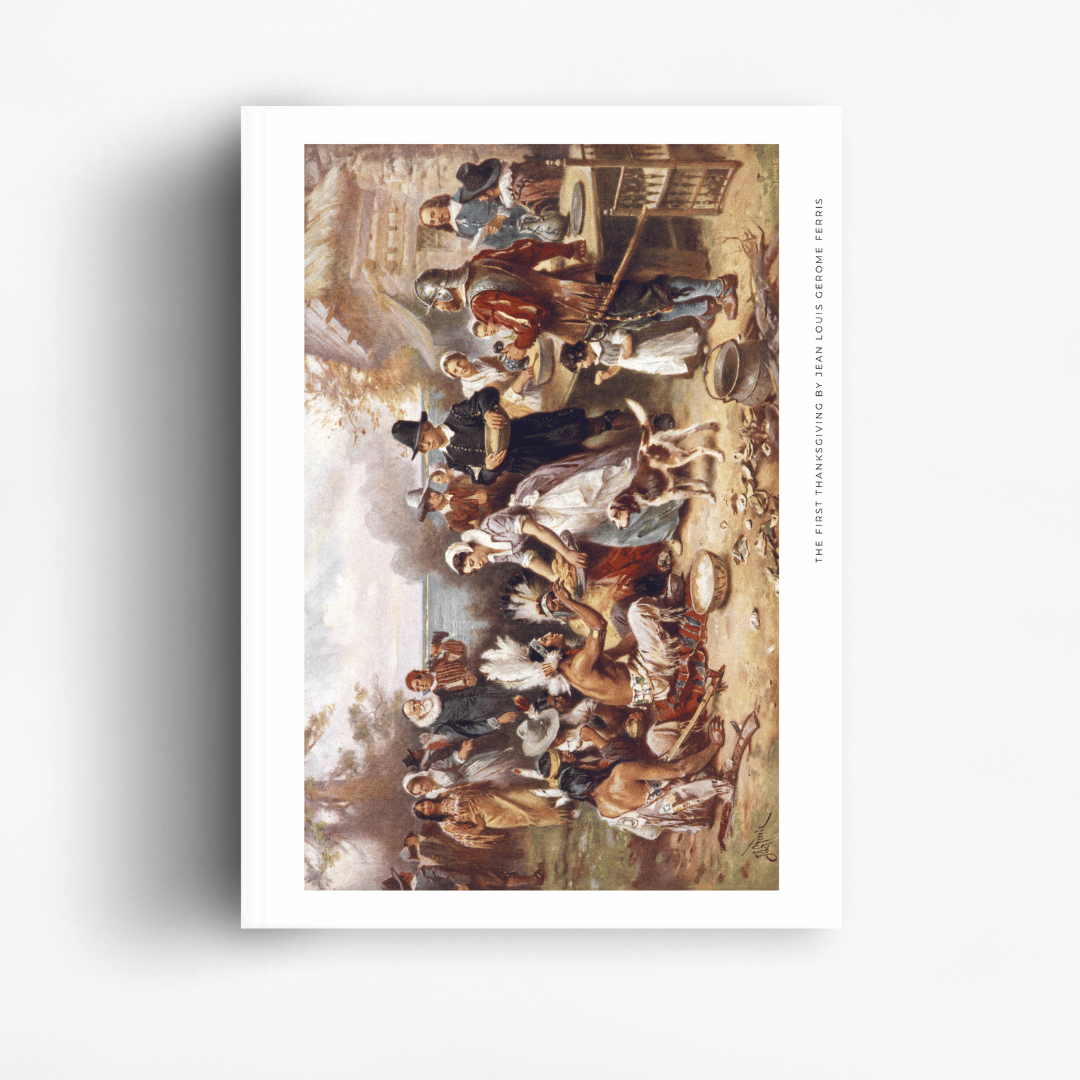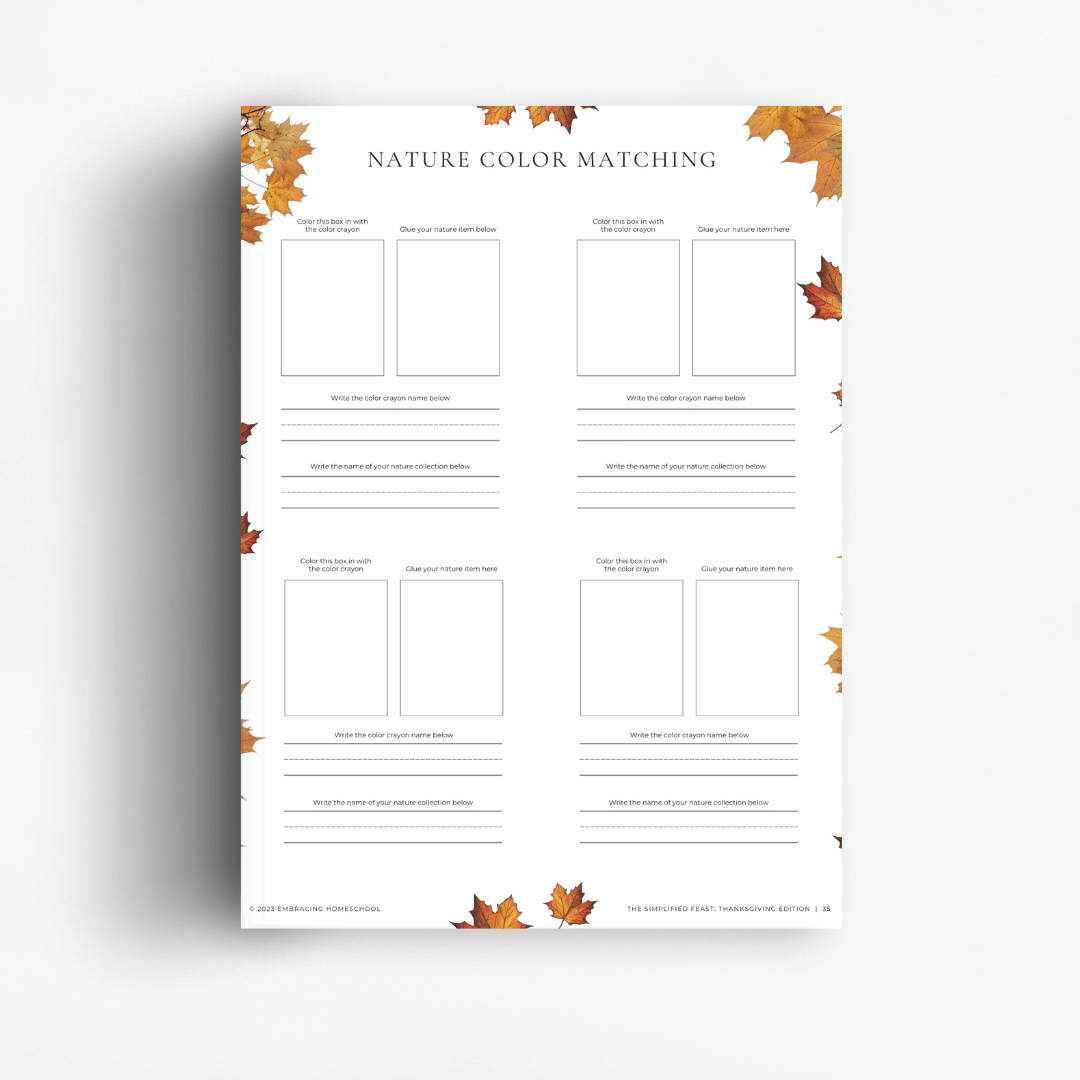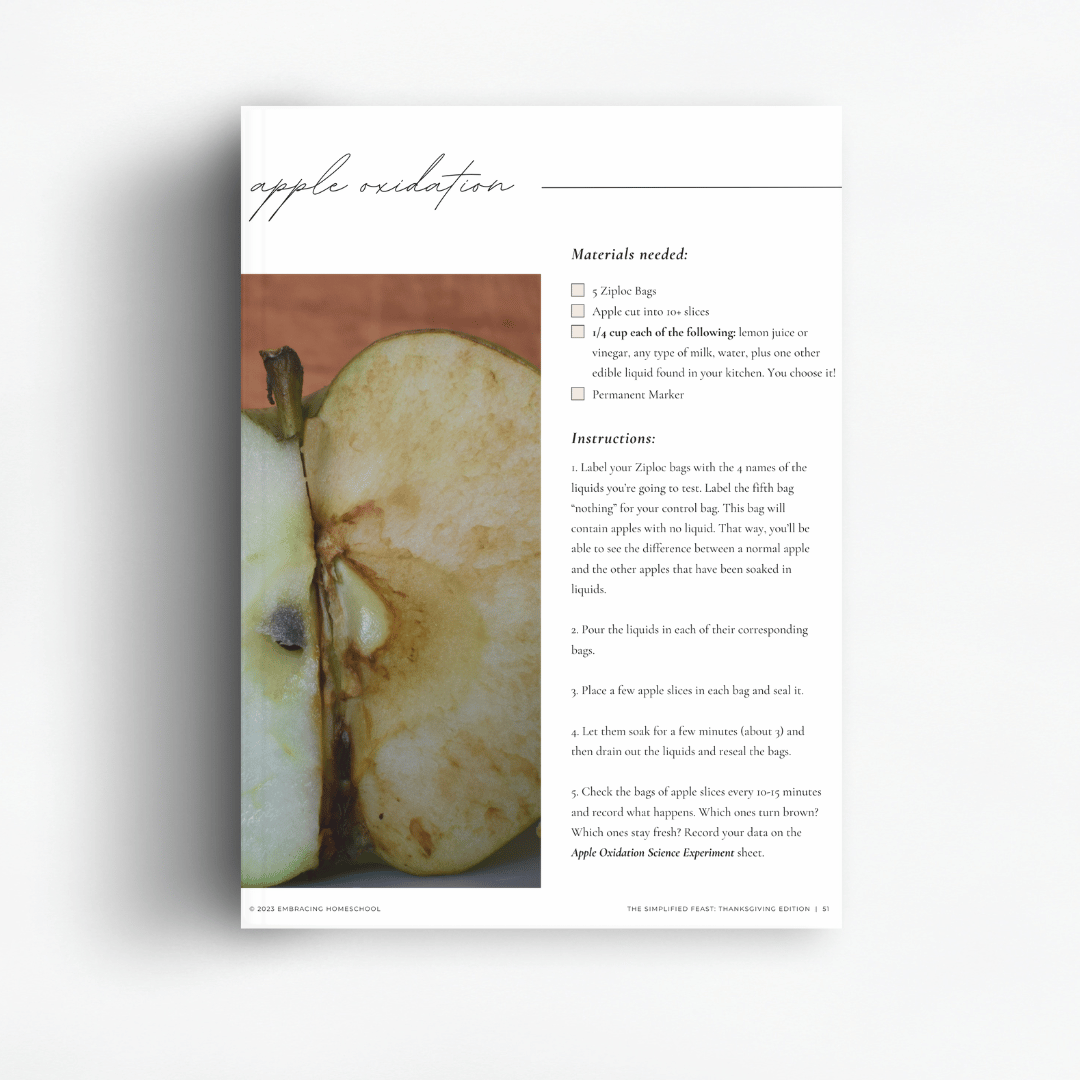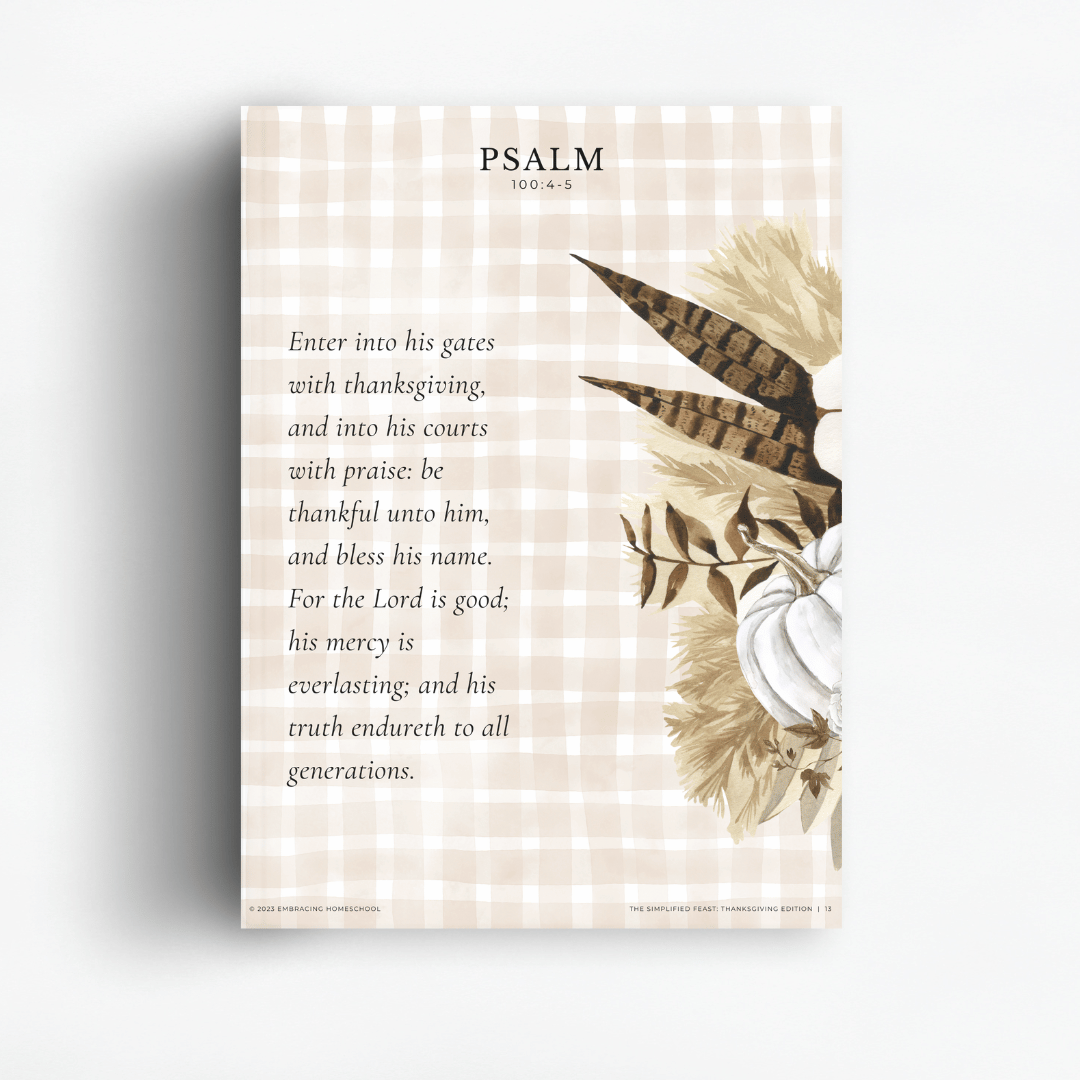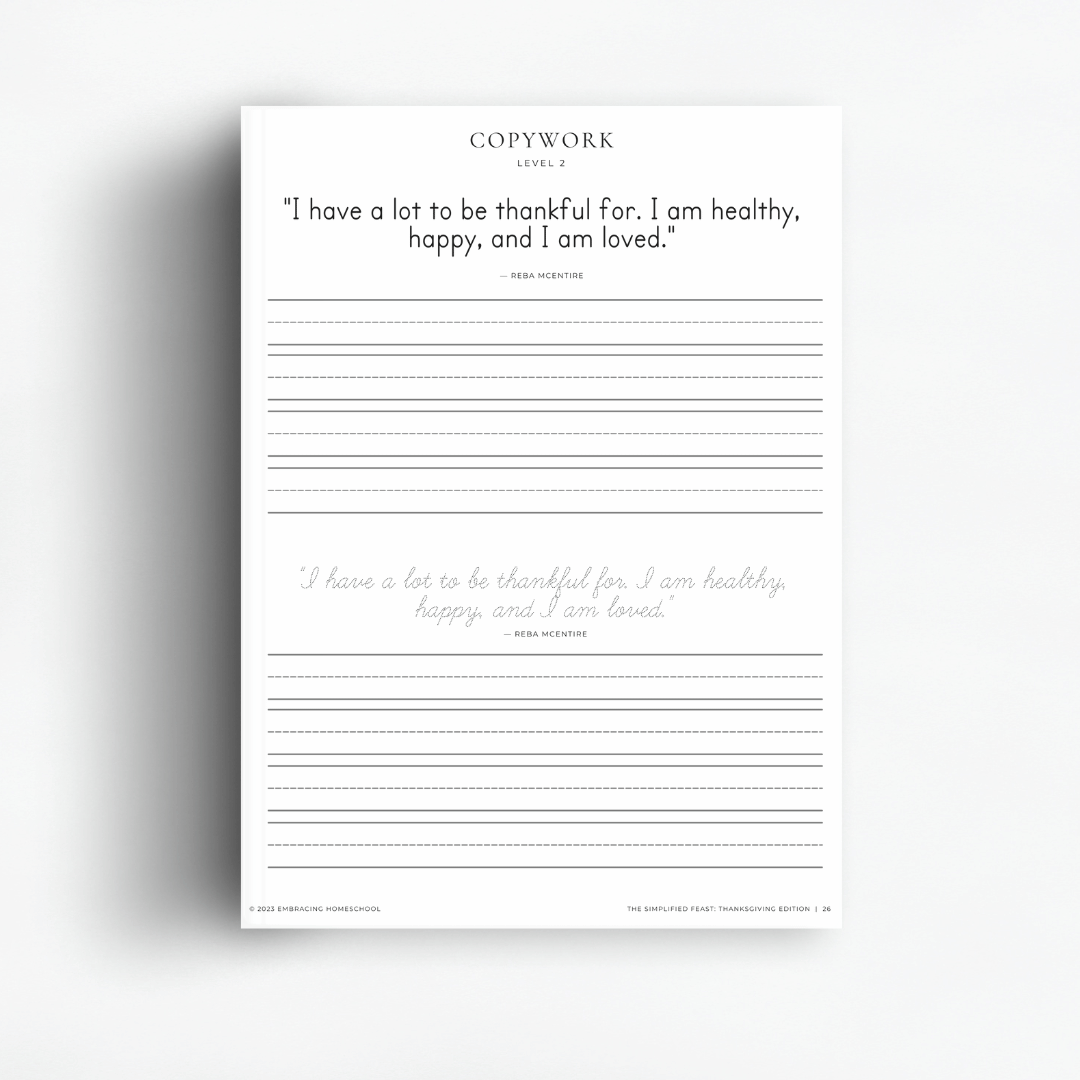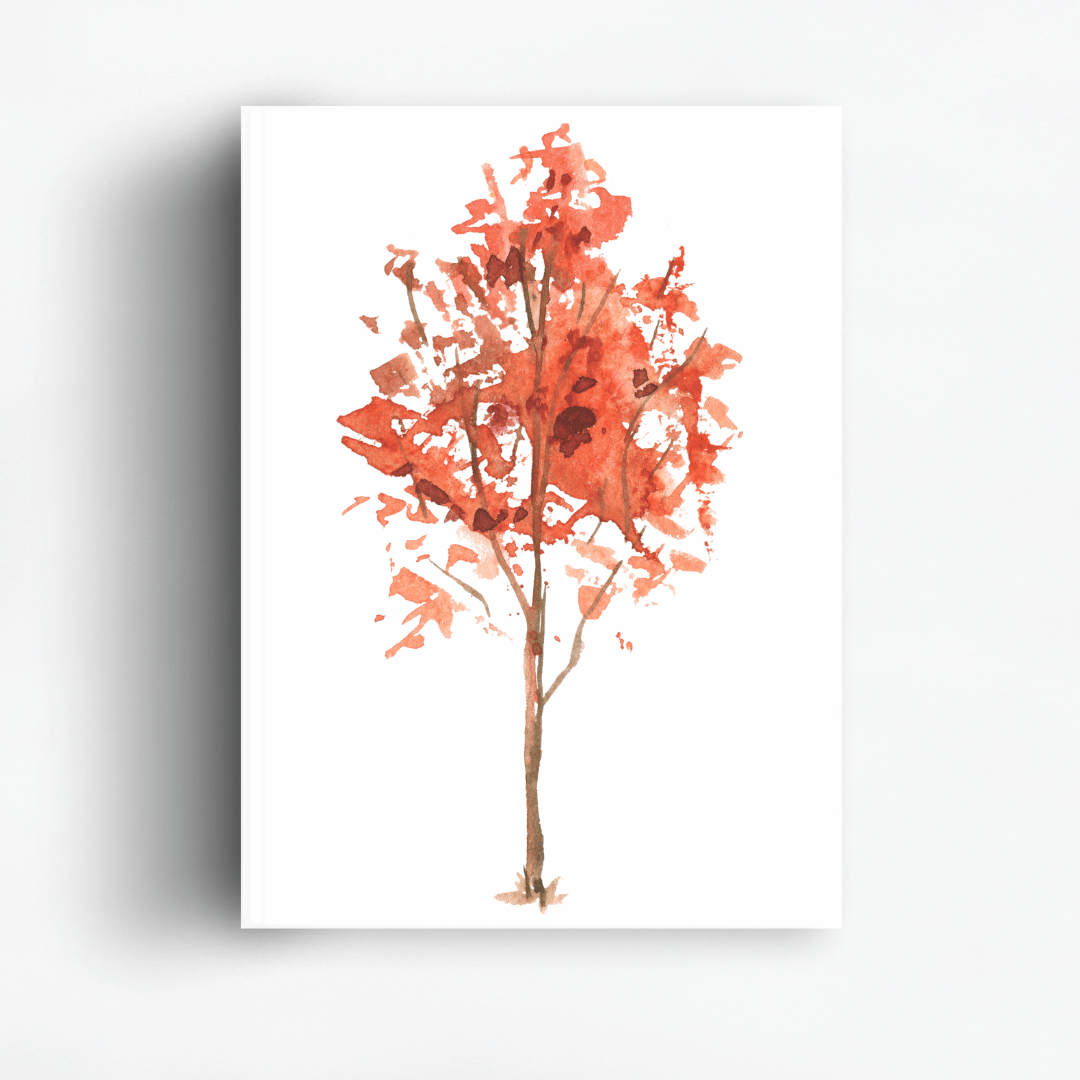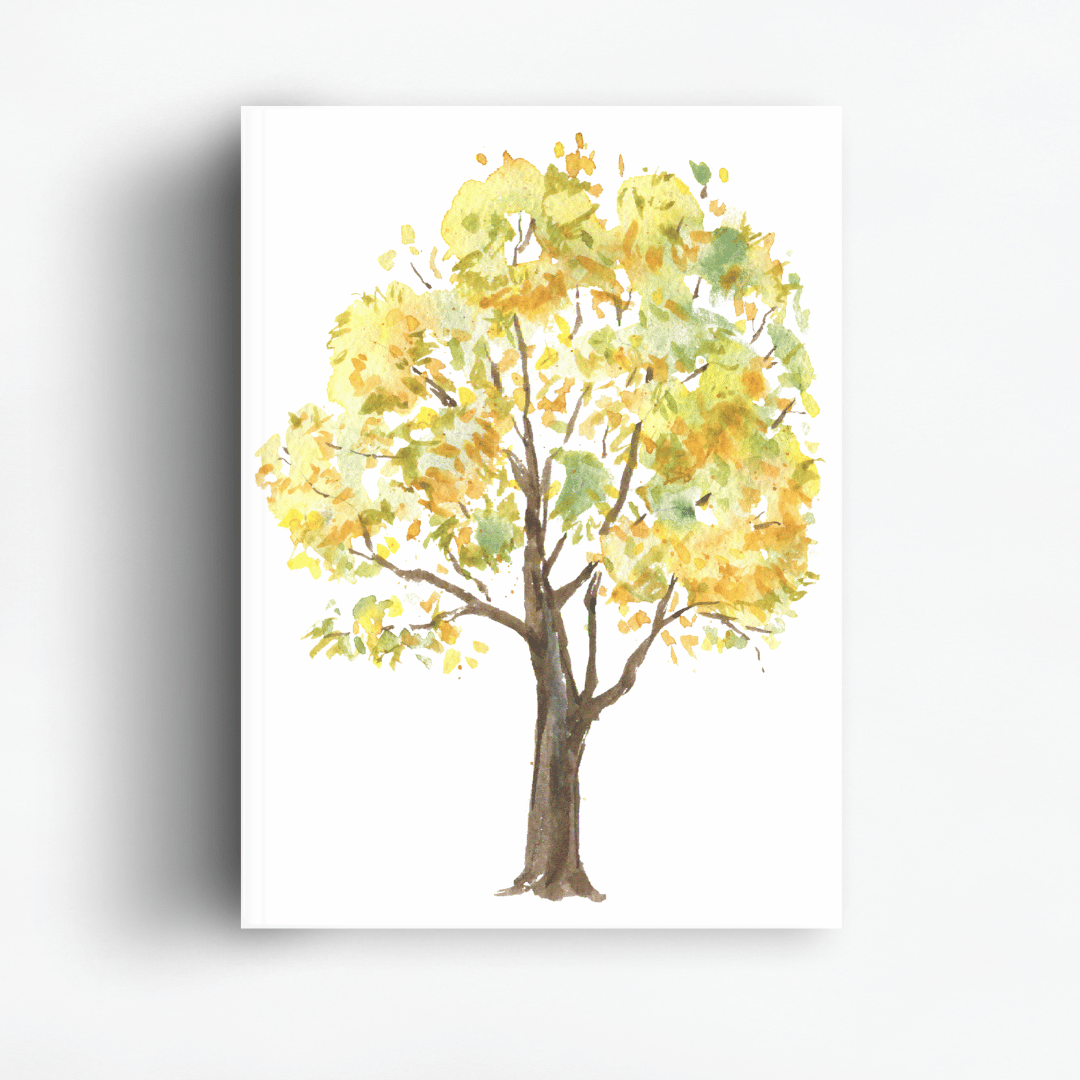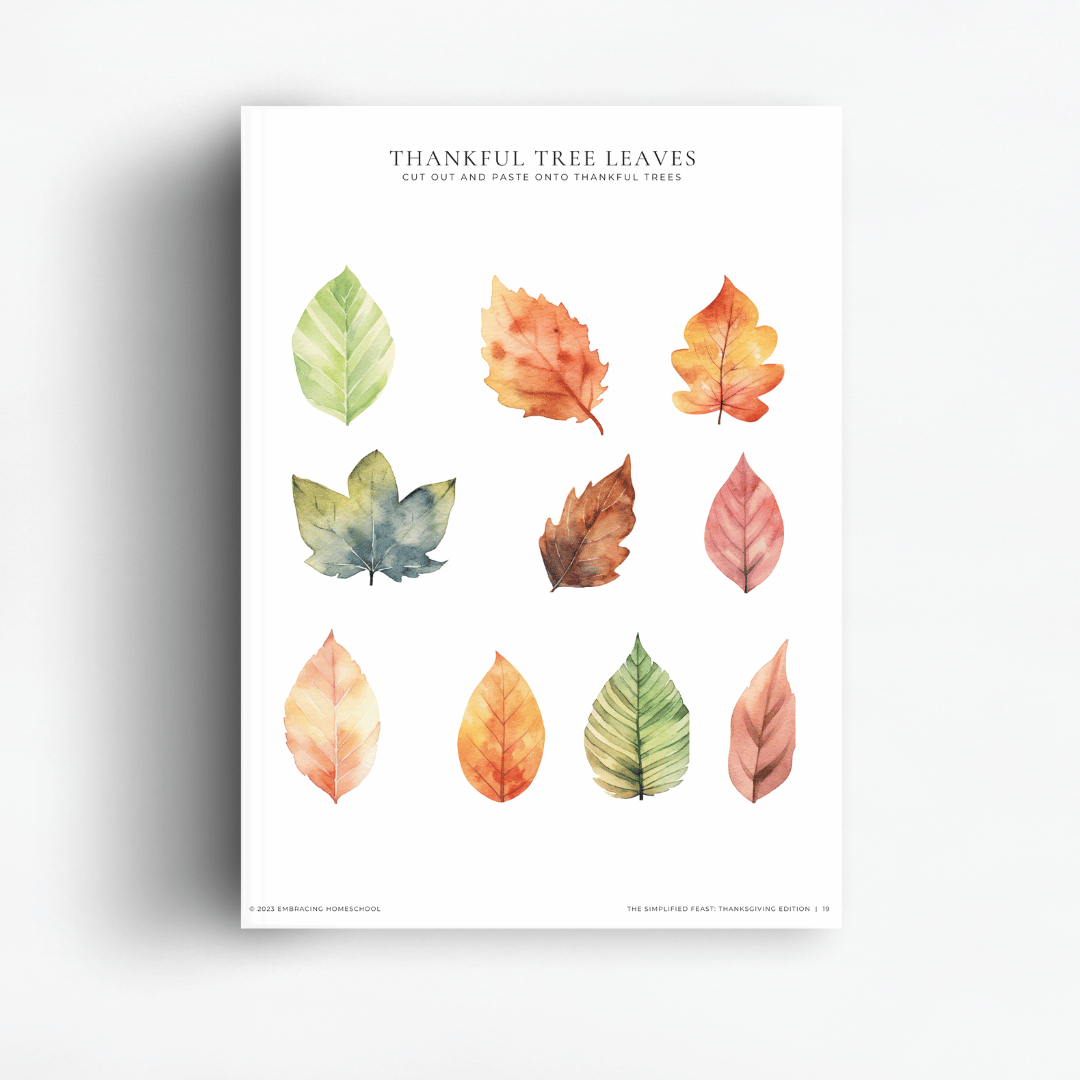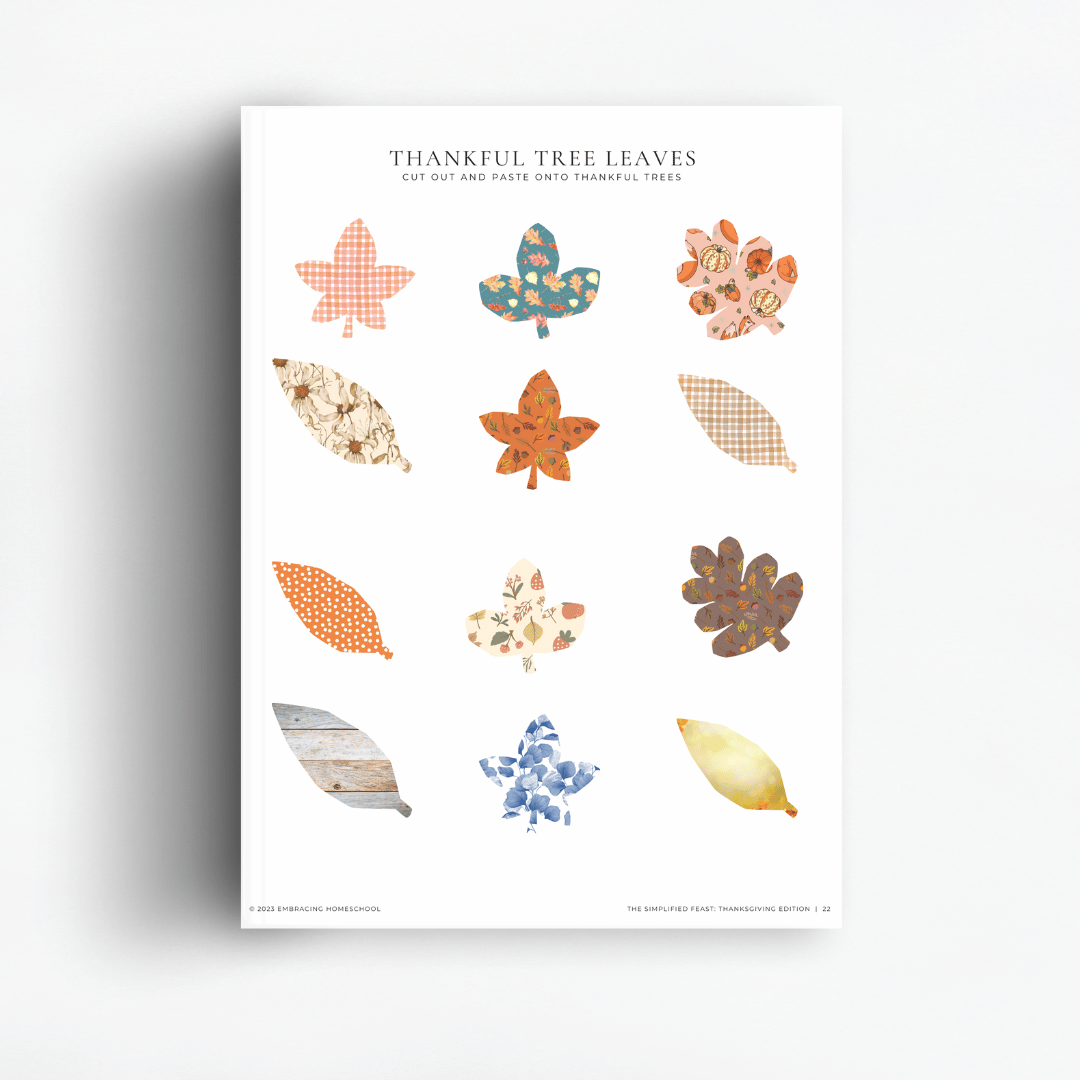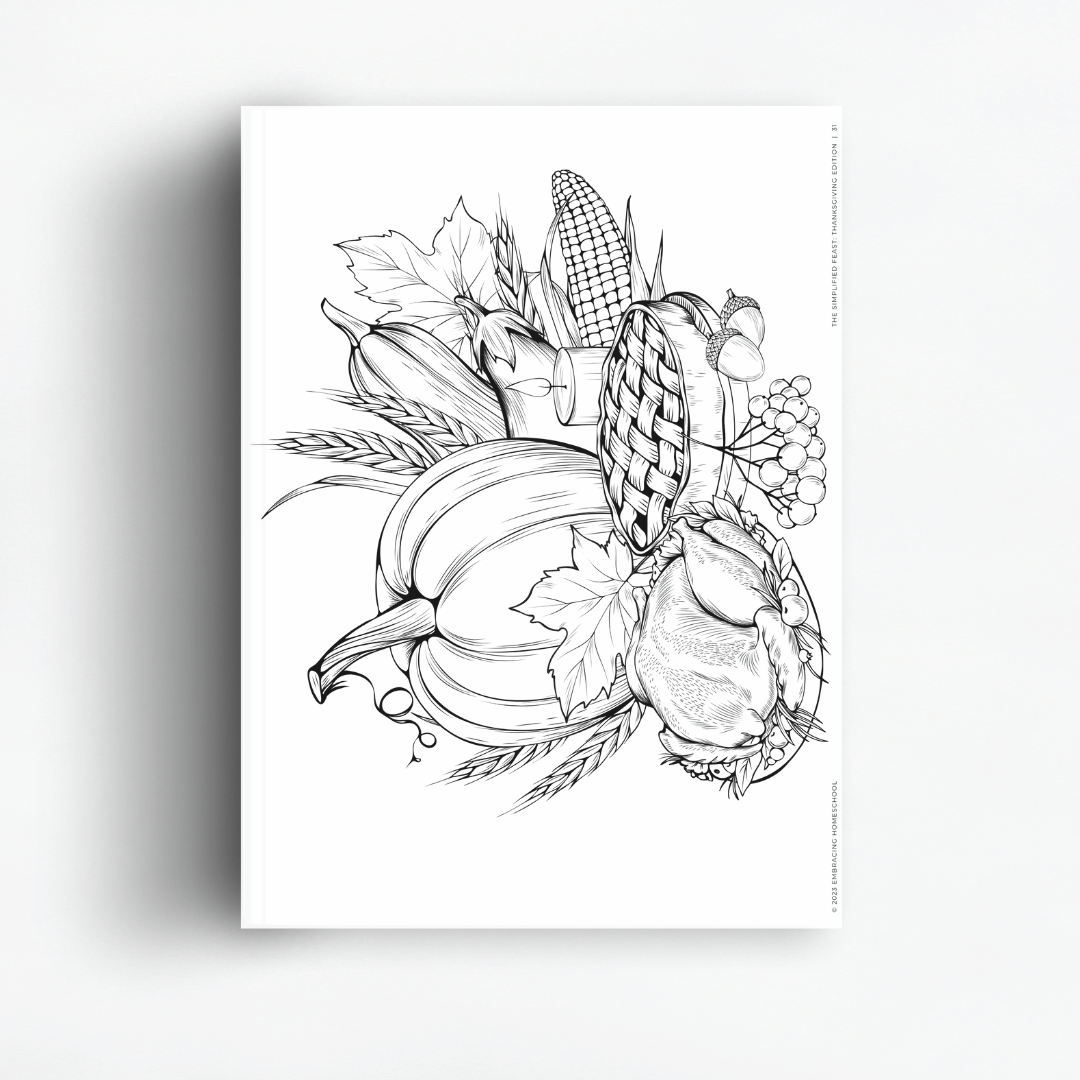 Thank you so much Cherelle, for all that you do! My kids absolutely loved your Thanksgiving Unit!! It is the first time that both of them participated and enjoyed the work for 3 weeks...no tears, no fits, no defiance. It's an absolute miracle 😊 This curriculum is laid out perfectly. I found the books we needed, printed and bound the Thanksgiving Unit, and we were all set to go. There are even check lists for each week so you know what items you may need to gather ahead of time, which wasn't much. I've included pictures of my littles gathering nature supplies for the art activities. We are soooo excited to start the Christmas Unit!
Breath of fresh air!
This curriculum was exactly what we needed to bring us renewal and enrich our time together this season. My son and I are new to homeschool ( just starting kindergarten) and have been wading through all of the curriculums only to end up a bit disappointed until we found this. It is structured in a way that is restful yet engaging. Every day has something new to enjoy and the variety has been wonderful. We've enjoyed the arts woven in with rich classical music and poetry as well as picture study and story narration. My son and I also enjoyed exploring our creative side with art projects that encouraged time outside and kitchen science that honed in important life skills. We will definitely be purchasing the Christmas series and will be adopting this curriculum full time starting in January.
Thank you for a wonderful Thanksgiving season ❤️
Truly Simplified
This curriculum is laid out so well. With 4 kiddos all close in age it has been an incredible blessing and time saver to learn together. It is also building memories and relationships among all of us! The lessons are built in a way that there is very minimal prep work. Cherelle provides a shopping/prep list for each week and you can prepare the whole week fairly quickly! I love the block schedule and the guidance of "what to do next." It takes the guess work out of "what are we doing today" and makes things predictable for everyone! The nature wreath handicraft was an absolute hit! Thinking we didn't have much nature around us was proved untrue when my kids dumped out all their treasures (8legs and all) on our kitchen counter! Haha. It's been so fun to learn and grow and focus on the holiday season with this curriculum. Thank you Cherelle!